Custom Printed Promotional Napkins
How many napkins do you use when attending a cocktail party or event? The average person uses 3-5 napkins at a 3-hour event. Why not take that opportunity to get your message seen 3-5 times per person! Custom printed promotional napkins are an efficient and cost effective form of advertisement. From custom wedding napkins to bar napkins, our printed paper napkins are perfect for any event or location! With many styles available, we're sure to have a custom printed napkin to meet your needs. We offer custom beverage napkins, personalized dinner napkins, printed wedding napkins, custom luncheon napkins and even custom birthday napkins! If personalized napkins are what you are looking for, look no more!
With custom printed promotional napkins, you can advertise or celebrate without breaking your budget! Choose from many different sizes, colors, and varieties, to suit many occasions. We offer personalized beverage napkins, custom dinner napkins, personalized luncheon napkins and monogrammed linen napkins.
Getting married? Check out our personalized wedding napkins. Do you have a big birthday celebration coming up? Help celebrate with personalized birthday napkins! How about custom bar mitzvah napkins or personalized bat mitzvah napkins? Celebrate an anniversary with personalized anniversary napkins! Our printed cocktail napkins are perfect for bars, restaurants, weddings, tradeshows, cocktail parties, staff parties or anywhere else you have food or drinks being served. Our personalized cocktail napkins can add a professional look at an economical price.
Get a start on finding that
custom printed napkin that's best for you.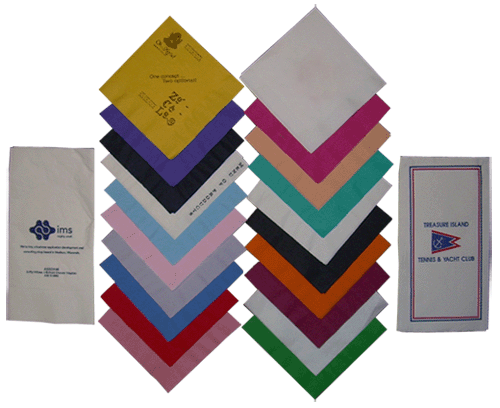 Looking for custom printed napkins? You've come to the right place! For more information on our custom printed promotional napkins, feel free to give us a call at the number above or click the button below to learn more!