Promotional High-Quantity Dinner Napkins
Custom printed dinner napkins can be a creative way to advertise your business at an affordable price. Dinner napkins are ideal for serving food in restaurants, hotels, bars, cafeterias, and more. By imprinting your logo or brand on a napkin you take an ordinary napkin and turn it into a nice table accent that gets noticed by others and gives your business more exposure. A napkin is a must for any business in the food industry, so why let a potential low priced advertising space slip by? Get your promotional dinner napkin today!
With our special pricing geared towards high quantity napkins for the food service industry, you can't afford to pass up these great custom dinner napkins!
We offer custom dinner napkins in high quantities to food service companies. Check out our sister website for low quantity custom printed dinner napkins site.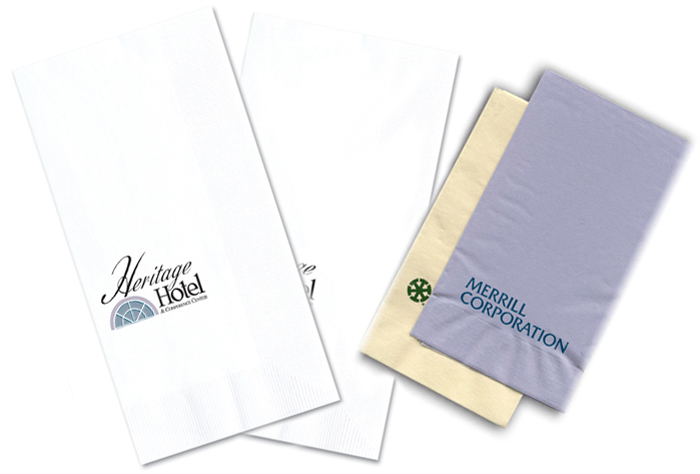 CD52 - 2-ply, white, facial quality, coin edge emboss. 1/8 fold - 4.5" x 7.5" folded, 15" x 17" open
CD52-RD - 2-ply, red, facial quality, coin edge emboss. 1/8 fold - 4.5" x 7.5" folded, 15" x 17" open
CD52-BK - 2-ply, black, facial quality, coin edge emboss. 1/8 fold - 4.5" x 7.5" folded, 15" x 17" open
Select your location:
Northeast Prices
(ME, VT, NH, MA, RI, CT, NY, NJ, DE, MD, VA, WV, PA, NC, SC, OH, KY, IN)
| | 10,000 | 20,000 | 30,000 | 60,000 | 120,000 | 250,000 |
| --- | --- | --- | --- | --- | --- | --- |
| CD52 | 53.58 | 50.26 | 49.16 | 48.06 | 47.52 | 47.22 |
| CD52-RD | 61.16 | 57.94 | 56.84 | 55.72 | 55.18 | 54.90 |
Shipping Special - $49.99 Ground Shipping

(*Prices Subject to Change)
For multiple imprint colors please contact us at 800-915-3535. Other colors available! See the chart below. For pricing on other colors please give us a call!
Looking for low quantity napkins? Click here!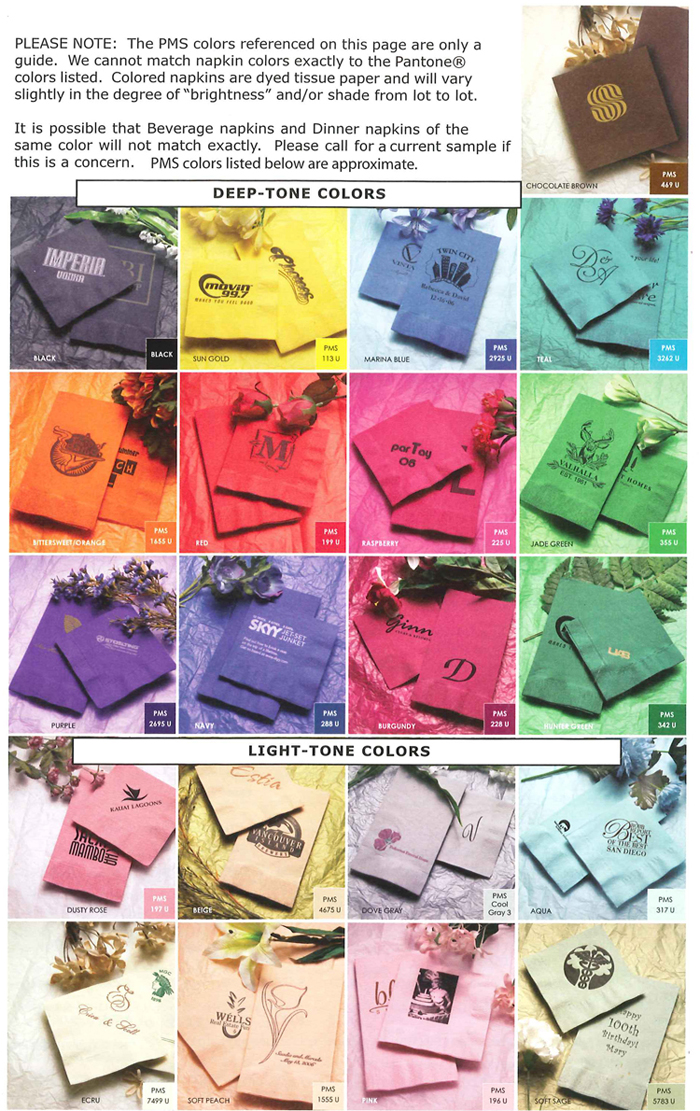 Colors available: Chocolate Brown, Black, Sun Gold, Marina Blue, Teal, Bittersweet/Orange, Red, Raspberry, Jade Green, Purple, Navy, Burgundy, Hunter Green, Dusty Rose, Beige, Dove Gray, Aqua, Ecru, Soft Peach, Pink, Soft Sage
Feel free to browse the products on this website and give us a call at 800-915-3535! Our friendly customer service representatives are ready to help you get the promotional hand fans that you need to make your next advertising campaign a huge success! Want more information? Click the button below to request a free catalog on some of the products we offer!